MEET THE TPO CAMBODIA STAFF!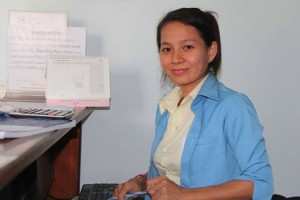 Name: CHEA SO Ou Sophea
Position: Clinical Office Assistant & Receptionist
With TPO Cambodia since: April 2006
Q: How did you first hear about TPO Cambodia?
A: I heard from my friend who works with TPO Battambang.
Q: What do you like most about your job?
A: I like to welcome clients, make them at ease and talk to them. I also like giving them information about their medication if they need to take any.
Q: What is your dream?
A: I want to see TPO grow as the professional standard clinic in the future.
Q: What do you like to do in your free time?
A: I like playing basketball and reading health magazines.
Q: Are you married and do you have kids?
A: No, not yet.