Jobs@TPO
There are currently TPO jobs advertised (check out below).
Job openning Job AnnouncementTPO_LC-Social Worker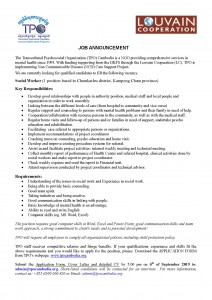 Jobs@TPO
Volunteer
A WORD ABOUT VOLUNTEERING AND WORK EXPERIENCE
:
All TPO staff are Cambodian. TPO Cambodia does not take in short-term volunteers on a walk-in basis and does not recruit volunteers, whether skilled or unskilled. We do occasionally host long-term foreign advisors and skilled volunteers who are placed with us through recognized international development agencies, and in accordance with those agencies' and our own development priorities and strategies. They are recruited directly by these agencies. If you are interested in such a long-term capacity-building commitment, please keep an eye out for job advertisements from these agencies and apply directly with them. From time to time, we do have opportunities for Cambodian students in the relevant fields to gain some work experience with us. These opportunities are advertised on campus and this website.