TPO helps unchain woman locked up by family for 15 years
Phorn, a 55-year-old widowin Kampong Cham province, had been locked inside a small cottage for 15 years before becoming a patient through TPO's Operation Unchain. She began exhibiting symptoms of mental illness in 1999, rambling and singing to herself, cursing, yelling and acting aggressively toward others. Many years ago, her husband left to become a soldier and did not return.
Her family tried very hard to find a cure for her, bringing her to traditional healers and monks. However, her symptoms only worsened and once her mother – her primary caregiver – passed away, she was mostly abandoned. Because she was locked inside the cottage for so many years, her muscles became weak and she couldn't stand or walk.
TPO staff became aware of her dire situation in 2015 when the organization launched its Operation Unchain project.  She began receiving treatment in July of that year and showed great improvement. Eventually her family decided to unlock her and today she can help do work around the house.
According to Phorn's stepsister, "if TPO had not come, her life would still be terrible. She would be waiting for death. I feel very excited and joyful. …We are very surprised because we never expected for her life to be like this. It seems she has been helped by God. TPO has relieved her from her longtime chronic illness."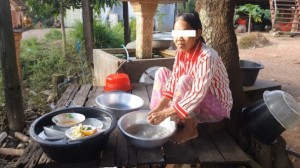 *This is a pseudonym                            
*After treatment, she can help her family do work around the house