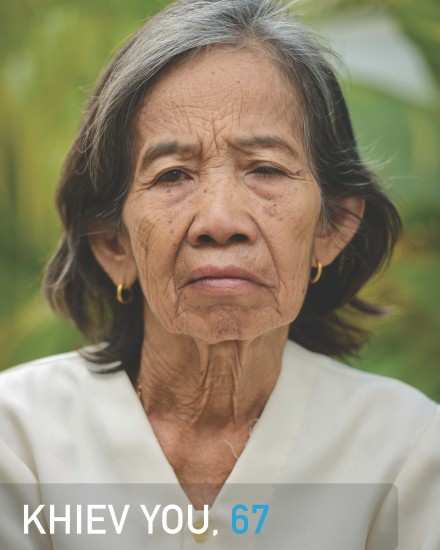 'Even though the Pol Pot regime has been gone for 34 years, the events I saw and experienced are forever engraved in my mind. My fear and sadness about the losses during that regime, especially the loss of my family members, remain.
My name is Khiev You. I am 67 years old. I was born in 1947. Currently I live on my own. I only have one son. He is married. I have three grandsons and two granddaughters. Each time I'm feeling upset, I just deal with that on my own. There is no one I can talk to. However, I always think of Buddha, the Buddhist philosophy and the monks.
I have four sisters. I am the fourth of five daughters in the family. My father was a carpenter. He built houses for people. My mother was a housewife. My family lived a comfortable middle-class life. My father loved me dearly. He felt sorry for me because I was born at the time the Japanese invaded Cambodia. At that time, people didn't even have salt to eat with their rice. I went to a primary school called Ang Serey School which is now a provincial hospital. I started to go to school when I was five years old. I was the best student at school at that time and finished the fifth grade of the former education system. I had to complete two more years to pass secondary school and get the Diploma. (1)
In 1965, when I was only 14 years old, my father had a traffic accident, which I witnessed with my own eyes. He was riding a motorbike close to our house when a car suddenly hit him. He was seriously injured – his head was bleeding. He was brought to the hospital where he died a few hours later. Each time I remember my father's accident I feel tight in the chest. It becomes difficult for me to breathe and I just cannot stop crying. I often feel as if this event is happening in front of me all over again. These days I often distract myself by thinking of Buddha, the Buddhist philosophy and the monks, and I try to breathe in and out deeply and slowly. That way, I feel relief after a little while.
After my father died, my family didn't experience too many difficulties, because he left behind twenty hectares of rice fields and seven hectares of land for growing plants and vegetables. After my father passed away, I could not concentrate well in class, so I decided to no longer go to school. Later on, I moved to Phnom Penh to live with my cousin. He loved me and cared for me as if I were his own sister. He supported and sponsored me in any way he could.
During that same period, my mother, who lived in the countryside, experienced severely serious mental illness as a result of losing my father in that terrible accident. She was very sad and full of sorrow. She became disorientated, seemed unable to control herself and did not understand her condition. She was later treated by monks who poured holy water on her. She returned to a normal state after three years.
In 1970, when I was 18, I married a man named Rath Thai. Both our families arranged this marriage for me. I then moved out of my cousin's house. My husband was a kind and tolerant man. He loved me very much. He was 20 years older than me and ran a motorbike-repair service near Psar Thmey market in Phnom Penh.
In 1973, I gave birth to a son. The country was in turmoil. I wanted my mother to come live in Phnom Penh with me, but she refused. My husband and I decided to go live with her in Kampong Speu province where my husband continued to run his motor-repair business.
In 1975, the Khmer Rouge took power. Kampong Speu province was also a zone of fighting and bombardments. My house was destroyed by two bombs while my husband was fixing a motorbike. He shouted a warning at me. I collected some valuable things as he was warning me and ran away from the house. When I remember that event, I have difficulties breathing, feel tense in the throat, have a headache and cry. I feel as if it's occurring again right in front of me. When that happens these days, I breathe in and out deeply, and go away to think of Buddha, his teachings and the monks. Doing that, I can compose myself again.
I fled to my relatives' house as I was told there would be ongoing bombings. My family moved again, by car, to Thnuos Luong village (currently Wat Chamnar). On the way, Khmer Rouge soldiers took our car to transport things until they ran out of gas. We got the car back, found some gas and continued driving. We passed many check points before we reached Prey Kmeng village. We were stopped at Wat Prey Kmeng where thousands of people were waiting to be screened and classified. Everybody was asked separately about his or her job. As a motorbike mechanic, my husband and the whole family were put into a separate group. We were later sent to Choam Sanke village with 30 other families. My husband was ordered to collect palm leaves. The village chief often wooed me, followed me around and checked my car which I used as a mobile house. He often taunted me, 'Are you the wife of that man? You surely are the wife of a high-ranking soldier instead. That man only seems to be your driver!' I clarified, 'He is my husband. You can ask my son and my mother to be sure.' He asked them as I had suggested. I made a complaint to the district chief about that frightening, annoying man. Because we were afraid, he sent me and my family away to Battambang province. We were transported on a small truck with another 20 to 30 families. The small truck was very crowded. Because we were not allowed to carry anything with us and I was very small, I wore four layers of clothes. There was a very bad smell in the truck because some people had defecated, often because of travel sickness. It took a full day and night to get to Pursat province. My son fell ill. The next day, we were deported to Svay Sisophon by train. It took another full day and night. At Wat Tareach one of the Khmer Rouge soldiers told us that they would soon divide us in groups to live there. However, when they realized that there was an old villager there who was a district member and who knew my husband and got along with my family, they sent us on to Kantrung village, Phnom Srok district, Battambang province, instead. In that village the Khmer Rouge gave each family member tasks. My mother had to twist thatch. I worked in the rice fields, dug a canal and built a dump. And my husband repaired motorbikes. Three months later, they again displaced my family sending us to live in Svay Chek, Banteay Meanchey province.
In 1978, they separated my husband from me by sending him to work as a motorbike mechanic in Svay Sisophon district of that same province. During that period they cruelly killed a lot of people. Before killing people, they usually called them to attend meetings. During those meetings they announced that 60 to 70 people betrayed them and were to be killed. I attended such a meeting twice. One day, while I was carrying soil, I was called for a meeting. I was happy because I thought that it was a chance to relax. In that meeting were about 1000 people. Amongst them I noticed my husband who was tied up in three parts of the body: at the neck, the waist and with his hands behind his back. Only my husband was in the truck. They read my husband's background and history out loud to the public. They accused him of betraying Angkar (2), of hiding his background and of not admitting to being a highly ranked soldier in Chan Raingsy's (3) group.
I was completely overwhelmed by emotion and shocked. I ran to embrace him. The Khmer Rouge cadres held me back and threw me on the ground. I hit my head and was bleeding from my elbows and knees as well. After the reading [of his background and history to the public], they gashed my husband with a sharp knife and salted him as if he were a fish. Lying on the ground, his whole body was trembling, contracting and bleeding. I was not able to control myself and I lost consciousness. At midnight they referred me to Mongkul Borey Hospital. When I recall this event, I feel tense in the chest, I have difficulties breathing and swallowing and I get a headache. I can't hold back my tears. It feels like this is happening all over again in front of me. I again try to breathe in and out slowly and deeply. Then I think and pray to God, think about the Buddhist teachings and the monks. I go out of the room, look around and try to realize what I saw and heard. That's how I manage to compose myself again.
My mother was grieving deeply and she was in a lot of pain. She could not eat, drink or even sleep. She died the same year.
Just one week after my husband had died, the village chief approached me and wanted me to marry a head of Sahak Kar. (4) I felt that this was unreasonable. I was very angry and aggressively refused.
In 1979, Vietnamese soldiers came to liberate us from the Khmer Rouge. I went back to my native village. The head of Sahak Kar still followed me and proposed to me again. I could no longer endure this difficulty. I reported to the Vietnamese soldiers that he was a bad person, that he had killed my husband but that he still wanted me to be his wife. The Vietnamese soldiers arrested him, tied him up and sent him to prison. When I realized that he was going to prison, I felt partially relieved and thought that I had revenged my husband. After telling this story, I feel relieved, but I still want to kill those Khmer Rouge cadres with my own hands. Later, both my son and I walked from Svay Sisophon towards Siem Reap province. After three days on the national road, we met Vietnamese soldiers whose task it was to transport people in trucks to Siem Reap province. We were both transported to Siem Reap. The town was quiet. I visited Angkor Wat feeling sad. I felt lonely because I had lost my family and all the things that were valuable to me. I was depressed at the time. I wanted to starve myself to death because of that feeling for three days. My son begged me to stay alive. He said, 'Don't leave me! After you die, who will I live with?' It was then that I realized that my son needed me to feed him. I started to eat again and continued traveling back to my native village in Kampong Speu province. At that stage, the Vietnamese soldiers did not allow me to go into my house, so I stayed on my uncle's land for a few weeks. I collected rice that'd been dropped in the fields, to feed my child.
In February 1979, I worked as a member of a commune committee in Kampong Speu province. My position was Head of Women in Voar Sor commune. My duty was to transport and distribute rice to the people in the villages.
In 1993, I arranged a marriage for my son. Now he has five children (two girls and three boys). He lives on the same lot, next to my house. I worked as Head of Women in the commune until January 2013. I am now retired due to a chronic illness. However, I have used all my efforts and ability to raise my son from empty hands until he had a family, a house and made a good living.
Even though the Pol Pot regime has been gone for 34 years, the events I saw and experienced are forever engraved in my mind. My fear and sadness about the losses during that time, especially the loss of my family members, remain.
Because of the many losses I suffered, I filed a complaint with the Khmer Rouge Tribunal through ADHOC (Cambodian Human Rights and Development Association) and my lawyer, Ty Srina, with the following objectives:
To find justice for my husband
To know the truth – why was my innocent husband killed?
To be clear in my mind after finding out the truth
To have a stupa to celebrate Buddhist ceremonies dedicated to the victims of the Khmer Rouge including my family members.
I hope that, in the future, I will be taken care of when I have become very old and am unable to provide food for myself.
I dedicate this testimony to the spirits of my dead relatives as follows:
My father Men Choeung, killed in a traffic accident
My mother Khiev Seng, deceased during the Pol Pot regime in 1978 when she was 71 years old
My husband Rath Thai, killed in 1978 when he was 67 years old
My oldest sister Khiev Yorng, and her husband and seven children, killed in 1976 and accused of being CIA members
My second-oldest sister Khiev Ya, and her husband and seven children, starved to death and accused of belonging to a feudalist family
My third-oldest sister Khiev Eng, 51 years old, and her husband and three children, killed and accused of belonging to a feudalist family
My youngest sister Khiev Sam Ang, killed in 1976 at the age of 27 and accused of being the wife of a public servant
 Testifier: Khiev You
TPO Counselor: Pov Maline
Notetaker: Chan Phalkun
Phnom Penh, 12 March 2013
————————————————-
FOOTNOTES
1 The former education system in Cambodia was based on the French system: primary school consisted of classes 12 to 7, while classes 6 to 3 constituted secondary school (collège) which you passed with the Diploma. Three more years of study (lycée) would get you the Bachelor Degree.
2 The CPK (Communist Party of Kampuchea) referred to itself as 'Angkar' which is the Khmer word for 'The Organization'. 
3 Chan Raingsy was a well-known soldier of the former Lon Nol regime. 
4 A cooperative in the community