HAT Hang's Story – from Victim to Community Leader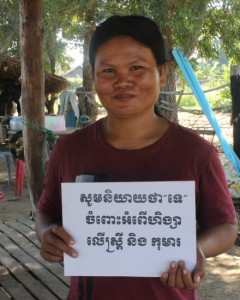 'I really want to support my community, and restore the dignity of my people in the villages so that they can be happy and healthy, get proper jobs, increase their income, send their children to school and no longer experience domestic violence.'
My name is HAT Hang. I am 34 years old, a mother of three and I'm a farmer. I live in Banan district, Battambang province. Before receiving psychological support from TPO Cambodia, my family experienced domestic violence at the hands of my husband. First, we were happy, but over time, my husband started drinking heavily. We had to sell all our belongings because of his gambling and he never took care of the family. Domestic violence, fighting and insults happened almost everyday in our family, and this had an adverse and profound impact on me, causing psychological problems for years.
When TPO Cambodia started working in Banan district thanks to funding from DFAT, they interviewed me to get a better understanding of my problems. They found that my psychological problems were caused by the ongoing domestic violence and they encouraged me to participate in a self-help group to get support and learn to deal with the problems. I got better through the self-help group. This made me want to help other women experiencing similar problems.
After participating in the self-help group, I was selected by TPO Cambodia to be further trained by them in mental health so that I would be able to help other victims of domestic violence in my community. I felt really encouraged by TPO and the other women in the self-help group to do that. During the training, and by participating in the self-help group, I learnt a lot about mental health and developed coping skills and techniques. For example, I learnt about relaxation techniques, anger management, psycho-education and parenting. I also learnt to better understand gender issues. I have used those new skills and knowledge to help my husband drink less, not gamble and stop the domestic violence. It has helped me share my feelings with him and better understand him and how we can better relate to each other and other people. With TPO's support I have gained a lot of confidence, which has helped me talk with my husband and find solutions together with him.
My husband has changed. We both work now and have increased our income. We are building a bigger house and our children go to school now. Our family is happy now. And these days, I am also helping others with similar problems.
Thanks to the training I am now educating others on mental health and the causes of their problems. And I teach them coping skills. I've been helping others experiencing domestic violence and I have achieved good results. As a consequence, the community started to recognize and value me as a community resource person – this is someone from the community who is able to help other community members. These days, members of the community seek me out. They come to my house to share their problems with me and seek help. Also in 2014, I was appointed as the vice-village chief because of my accomplishments in helping people in the village. The local authorities decided this on the basis of my hard work, my
commitment to helping the community and the courage I've shown in raising issues with the authorities and reporting to them about the needs of the villagers and the mental health issues they experience. I now also meet on a monthly basis with the Commune Council for Women and Children where I report about the state of the mental health of the people in my community and related problems they are experiencing.
In the future, I'd like to do more awareness raising about mental health and psychosocial issues in schools – for teachers and students – and with local authorities. During meetings at the commune or district level, I can discuss and raise awareness about mental health, but also work with the authorities on preventing issues such as domestic violence in the community. I really want to support my community, and restore the dignity of my people in the villages so that they can be happy and healthy, get proper jobs, increase their income, send their children to school and no longer experience domestic violence.
Ms HAT Hang received support and training from TPO Cambodia as part of our Improving Mental Health for Survivors of Gender-Based Violence & Sexual Assault Community Mental Health program funded by Australia's Department of Foreign Aid and Trade.