HANG Nget's Testimony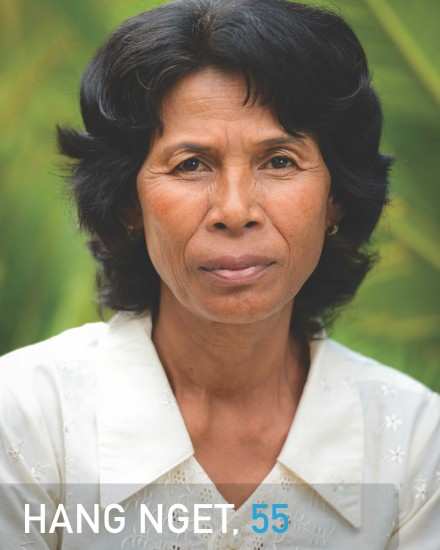 'In the jungle I saw a lot of dead people, even children. They had died of starvation. Their bodies were very skinny. I was very frightened. This image remains in my mind even when I close my eyes.'
My name is Hang Nget. I am a widow. I was born in 1958. I am the oldest of six children – I have five younger brothers. My parents were farmers. I am now 55. My husband died 10 years ago. I have raised nine children. I am now living with two of the nine children. One of my children is a monk, another one is studying in Banteay Meanchey province and the other five have been displaced to Thailand. Only one of my younger brothers has survived the Khmer Rouge regime. Because we were poor, my siblings and I never went to school. My mother told me that I was very ill with measles at the age of 10 and that she thought I was about to die. My mother and I were very close. I was my parents' favorite because I was the only girl in the family. I spent a lot of time with my mother. I learned from her how to cook and helped her with the housework.
In 1971, when I was about 12 years old, my family faced many difficulties, such as a lack of rice and insufficient land to grow rice and vegetables on. At that time, one of my uncles, whom my mother had helped to find a wife for, invited my family to live at his village in Takmao, Kandal province. My parents left their own small plot of land to their relatives for them to take care of. The new place did not improve my family's life. The war and the bombardments made life even more difficult for us. I lost my father in these events. He died during a bombing, in view of my entire family. I was weighed down with sorrow and frightened. My whole body was shaking and I cried loudly. Two years later, when I was about 15 or 16 years old, I moved away from my mother to work as a housemaid in town. I took care of the small children and cooked for a widow. I missed my mother and my family a lot and I could not endure the separation. After three months, I went back to live with my family. We lived in a small cottage on the land of someone I don't remember. Every day we looked for wood and morning glory and sold it to make a living.
In 1975, my family and others were forced to move from one place to another. Later that became known as deportation. My family and I were deported from Takmao, Kandal province. My mother and I, as the oldest child, shared and carried as much rice and other important property as we could. On the way, I saw two dead soldiers who had just been killed. I was very shocked – I sweated, had palpitations and felt cold in the extremities. Other people watched them with fear and sorrow. We continued walking with other people. We passed many villages and districts from Takmao to Svay Rolum, Prek Pao, Ksat Tbo, Sophy, Kah Thom, Kampong Tuol, and Srang until we reached Svay Chrum, where I was born. One of my younger brothers decided to live with my uncle in Kampong Speu province. We stayed there for about five days and were then forced to move on to Sambour district. If he had come with us at that time, he might have died. We stayed in Sambour district for about three months.
We were again deported to Pursat province. There were five trucks that brought us to the train station and sent us to Pursat province. I didn't know where I was sent to until the Khmer Rouge told us to get off the train in Pursat province. They distributed people across various villages. I was settled in a house whose owner had been displaced to another area, to Chungruk village. At the beginning, the Khmer Rouge provided each of us with half a can of rice. So my family of six received three cans per day. My mother was ordered to plant rice and bananas close to the village. It was not so difficult. Two months later, the Khmer Rouge cut down the rations to only two cans of rice and one can of dried banana. From time to time, the Khmer Rouge stopped providing rice to my family completely. It was a very hard time for the whole family. My mother cooked small amounts of rice mixed with the stem and roots of banana and papaya trees to feed six family members. Months later, we were ordered to change our clothes from mixed colors to black color only. When I was 16 years old, I was sent to a mobile youth team. With my team, I planted rice, dug irrigation canals for rice fields and so on at different locations in the area. I was allowed to visit my mother in intervals of 10 days.
In 1976, darkness fell over my family. Because of the lack of food, my third brother stole leftover rice from the kitchen repeatedly. In the end, the Khmer Rouge caught and punished him badly. It was a very frightening day for him. He was 10 years old and was tortured in the rice field by three Khmer Rouge guards. They laid my brother on the ground, face downwards, and put a wooden board on his back. The three guards stood on top of that board when it was on his body. He was in a lot of pain and cried loudly to me and my mother for help. We could not do anything to help him. We could only watch it. We could not even cry. I was very shocked and frightened. I felt weak, had no energy at all and had palpitations. Later, when I visited my mother again, she told me that he had been killed for having stolen a piece of meat. My mother witnessed the killing. She followed the guards when they arrested my brother. She was about 50 meters from the killing place. She saw how they hit my brother on the back of the head with a long stick and how they threw him into a bomb crater and covered him up with earth. When I heard about his suffering, I felt very tight in the chest and had pain in the stomach. My body was shaking. I cried on my own for a few days. One month later, my fourth brother had a serious illness. His testicles and penis were swollen as if infected. As there was no appropriate treatment, he died in a health center called Damnak Trach. In the same year, my fifth brother died at the Prey Rong health center from the swelling disease (1) which had been left untreated. The remaining younger brother also died in the same year from a severe infection in his cheeks, because he received no treatment at Chungruk village. In middle of 1976, when I was at my work place, I saw Khmer Rouge guards arresting four or five monks and forcing them to take off their robes and dress like other people. When the monks hesitated or refused to do so, the guards undressed them. They later forced those monks to dig soil and to construct a canal. I felt a lot of pity for them. I thought they shouldn't have done such things.
In 1977, after a long time of separation, I met my mother again. One of my friends told me that my mother was sick and hospitalized at Talo health center. At that same time, I was also sick and hospitalized at Wat Damnak Sdach health center in Pursat province. My whole body was swollen. The health staff always gave me three kinds of pills: black, white and dark brown like tamarind seeds with a bitter taste and a woody smell. They treated the patients, including myself, badly. Sometimes they even attempted to beat me. About half a month later, I received some injections. This reduced my swellings. As I was concerned about my mother and missed her too much, I decided to run away from the health center. I sneaked out of the center at 4 am. While walking through thick jungle, I saw five Khmer Rouge soldiers pushing about 10 people into the jungle. Most of them were men. Their hands were tight behind their backs. They were in their underwear. I was very frightened. I was shaking and my muscles were weak (2) when I saw them. Later I heard voices from the jungle begging for life from the Khmer Rouge soldiers, 'Don't kill me!' At that time, I decided that I had to reach my mother, even though I risked dying just like these people. God helped me to reach my mother. I was told that she was in a room for the dead. It was about 6 pm. While going passed crowded beds, I found my mother while the health staff was transporting her back from the room for the dead as she was still alive. I was very happy to see her. I stayed with her illegally for one night and one day. I boiled krasang (3) flower for her to eat and drink. She was very hungry. Since it was difficult to hide from the Khmer Rouge and there was not enough food there, I decided to go back to the mobile team. My mother later told me that she survived thanks to the krasang flower I cooked. Mid-1977, I escaped again to visit my mother, who was living in Bak Mek district. It was 6 pm. Two Khmer Rouge guards saw me and asked me where I was going. I requested to visit my mother. One of them allowed it, but the other one didn't agree. I was very scared. I saw that they carried long wooden sticks. Finally, they agreed but demanded that I'd come back soon. I went to see my mother and didn't go back to the team. I lived with her until 1979. While I was staying with my mother, I was put in an adult team. I had not been forced to get married, but I witnessed forced marriages at the time. Men and women were seated in line in front of each other and were forced to say, 'We decided to accept to live together as husband and wife.' They all came from different villages. I saw some girls crying. Some were angry and others upset. I realized that it was unusual. I later heard that they followed up on the couples with checks to see whether they got along with each other. I didn't see the Khmer Rouge do that, because I had to go back to work when the weddings were completed.
In 1978, my mother and I returned to Rumlich village. I was put in a mobile youth team to plant rice and my mother was put in an adult team. We were able to see each other often, but not allowed to sleep in the same place. I was very tired from work and very angry, but I could not express this in public. I had to follow what they wanted me to do. Otherwise I would have been killed. One day I witnessed a very frightening event. Three villagers were brought to be killed at Center number 42 by five Khmer Rouge cadres. Two seniors were the killers and the three juniors held the wire tying the villagers. They hit them on the back of the head with a big wooden stick until they died. In 1978, I was moved to work as a rice carrier at a rice production plant. I had enough food there, and no longer only porridge.
In 1979, when Vietnamese soldiers arrived, I escaped from Rumlich jungle towards Rumpek village through the thick jungle. In the jungle I saw a lot of dead people, even children. They had died of starvation. Their bodies were very skinny. I was very frightened. This image remains in my mind even when I close my eyes. I often feel scared, tense and have palpitations. I often deal with these symptoms by moving, exercising, and praying with burning incense sticks dedicated to the dead for them to be reborn soon.
In December 1979, I married a man who had been displaced from Kampong Chhnang. We lived together in Rumlich. Three months later, my younger brother – the one who had been living with one of my uncles in Kampong Speu for a long time – came to live with me and my mother. From then onwards, I worried a lot about him. He was often conscripted by the authorities, but he ran back home from the conscriptions many times.
In 1988, my mother fell ill, probably with severe malaria, when she was visiting my younger brother in his soldier camp. She worried a lot about him. She died when I had my fourth baby.
In 2001, my husband and I opened a small business. We sold num banh chok, a type of Cambodian noodle dish. I made the soup and my husband made the noodles. We helped each other and lived peacefully. Unfortunately he died from heart disease when I was pregnant with my ninth child. Since then, I could not work on my own. I was in a postnatal period. My life became difficult as I had to raise the nine children alone. Every time I think back, I feel regret and anger towards myself and I am disappointed for being unable to care for my children in a proper way. I often think that it is my fate. Since the Khmer Rouge period, I have lost my father, my siblings, and later my husband. My children are living away from each other. Each time I think about them, I feel upset, angry and scared about the death of my siblings during the Khmer Rouge times. These days, my family seems to be doing better, because my children have become adults and have jobs. They have started to relieve my burden.
This testimony is dedicated to my family members who died:
My father Hang Sim, killed during a bombardment
My brother Hang Sothoeun, killed and thrown into a bomb crater
My brother Hang Sothy, who died from starvation and an untreated disease
My brother Hang Sotktha, who died from the swelling disease
My brother Hang Sothea, who died from a severe infection
Testifier: Hang Nget
TPO Counselor: Srea Ratha
Notetaker: Ty Samphoas Vicheka
Phnom Penh, 16 July 2010
————————————————-
FOOTNOTES
1 She doesn't know the name of the condition – the entire body of the patient swells until he or she eventually dies.
2 Actually, the medical term is 'hypotonic', indicating that muscles lack normal tone or tension.
3 Krasang is a fruit, which, after being mashed, is used for making sour soup.