Anger Management
A two-day training program that will teach you strategies and techniques to manage your feelings and control your anger and that will also enable you to help others who struggle with this.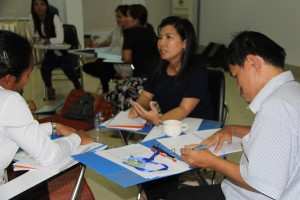 What is this course about?
At the end of this course, you will be able to . . .
better understand the perspective of others
recognize and identify the various emotional and physical states of a person who's angry
identify 'situation anger' leading consistently to angry responses and possibly aggressive behavior
apply effective intervention techniques to prevent and manage anger
master and demonstrate relaxation techniques 
display greater self-control
Who is this course for?
This course is for anyone who would like to improve their interpersonal, communication and listening skills, better control their impulses, learn to be more forgiving and empathetic, manage expectations when in a situation of conflict, and practice more positive self-talk and optimism.
Practicalities
Duration: 2 days
Dates: check our Training Calendar
Venue: TPO's Training Room at the TPO office, Phnom Penh Thmey.
Group size: 17 participants maximum.
Cost: 150 USD per person (including all material, refreshments & lunch).
A 10% discount applies to organizations enrolling a minimum of 4 people.
Language: Khmer
Certification: can be provided to those who complete all requirements.
Enrolment: download and fill out the Training Registration Form and email it to training@tpocambodia.org
Want more info? 
Please contact TPO's Training unit on 023 63 66 993 or 095 666 827
Mr ROS Saray Endeth
training@tpocambodia.org
Ms Sok Phaneth
phaneth@tpocambodia.org